Brief Introduction
The Functional Films and Interfaces Division (FFI), which belongs to the Shenyang National Laboratory for Materials Science (SYNL), was founded in July, 2011, based on the "1000 plan" program. Our core objective focuses on the challenging national strategic need for clean energy and a clean environment and providing feasible solutions using our professional experience and cutting-edge technology. Our research focuses on the intelligent fabrication of various functional films and nanostructures using PVD and CVD technology, with a particular interest in the rational synthesis of functional films and nanomaterials (e.g., diamond, DLC, III-V group nitrides, and photovoltaic and photothermal conversion films), interface engineering, surface modification and functionalization, and the exploration of their promising applications in industry.
Research Areas
1. Rational Synthesis of Functional Film and Nanostructures
2. Application of Functional Film and Nanostructures in Clean Energy and the Environment
3. Surface Modification and Functionalization of Materials
Research Highlights

SEM image of heteroepitaxial diamond film on Si substrate and the HRTEM image of diamond-Si interface.
(a) STEM image of a (GaP)1-x(ZnS)x solid-solution nanowire with the Au catalyst particle attached to its tip. The figure shows (b~f), P, S, Ga, Zn, and Au elemental maps, respectively.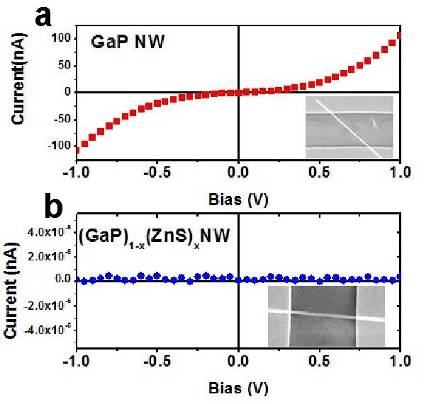 Electrical transport measurements of (a) a GaP nanowire and (b) a (GaP)1-x(ZnS)x nanowire.

(a) Top-view and (b) side-view SEM images of GaN nanowire arrays epitaxially grown on sapphire substrate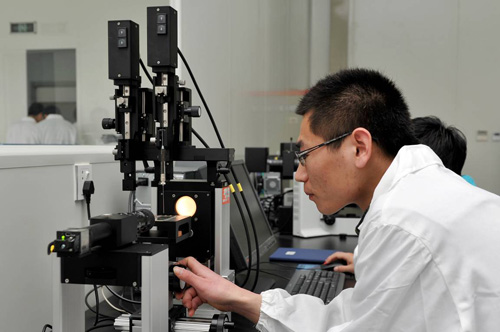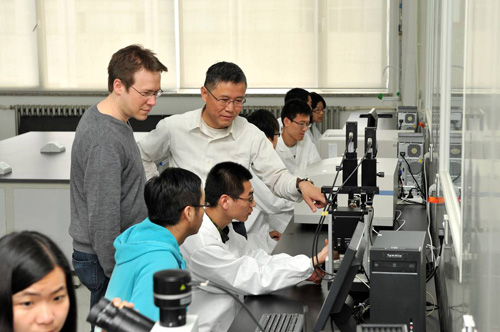 Please click here to visit the website