The recipient of 2015 Lee Hsun Lecture Series—Lee Hsun Lecture Award, Prof. Maire Eric from Centre National de la Recherche Scientifique (CNRS) visited Institute of Metal Research, Chinese Academy of Sciences (IMR, CAS) from 13 to 15 Nov. 2015.
On the ceremony of Lee Hsun Lecture Series, Prof. Maire Eric gave a Lecture of "Effect of pores in materials analyzed by X-ray tomography", which revealed the application and progress of X ray tomography, especially the in situ 3D research can 1) clearly characterize formation, growth and coarsening of pore in materials plastic deformation, 2) trace the change of different pore, and 3) be vital when temperature loaded under complex environment. After the ceremony, he also gave fully guidance about 3D analysis technology for researchers in IMR.
Prof. Maire Eric is Research Director of CNRS, member of the user organization committee and of the review committee at the ESRF and vice-director of the Mateis laboratory. He used to be vice president of the French CNRS federation of laboratories "Federams" 2005-2010. Prof. Maire Eric brings the high resolution X-ray 3D image processing into damage research, and then sets up a series of system of 3D analysis technology which is applied in the impact of quantitative research in microscopic non-uniformity to block structure materials damage. Recent years he developed in situ 3D imaging and quantitatively researched the elasticity, moulding and fracture of porous materials, 3D structure and other composite materials. Prof. Maire Eric has awarded Bronze medal of the CNRS section 9, RIST price of the French federation for materials, Lecture for the Federation of European Material Societies (FEMS) and Alcan-Pechiney price of the French science academy, ect.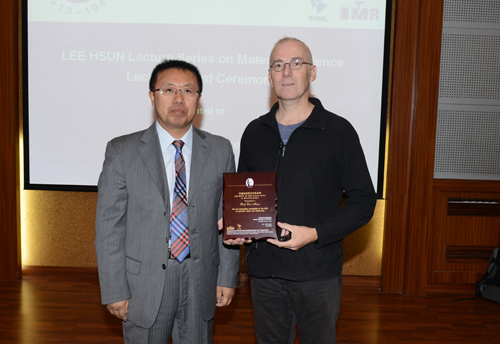 Prof. ZHANG Zhefeng, the Deputy Director of IMR presented the plaque of Lee Hsun Lecture Series to Prof. Maire Eric (Imaged by IMR)