The recipient of 2016 Lee Hsun Lecture Series—Lee Hsun Lecture Award, Prof. Patrice Simon from University of Paul Sabatier, France visited Institute of Metal Research, Chinese Academy of Sciences (IMR, CAS) from October 25 to 27, 2016.
During the visit, Prof. Simon delivered a lecture entitled "Recent advances in Double Layer Capacitors". He demonstrated several aspects of the electrochemical characterization of materials for supercapacitor applications by providing a direct molecular-level insight into the charge storage process in microporous carbon electrodes.
Prof. Simon is a Professor in Materials Sciences at Université Paul Sabatier, Toulouse, France. His research is focused on the synthesis and the characterization of nanostructured materials for electrochemical energy storage sources, including Electrochemical Capacitors and Li-ion battery systems. His also devotes himself to high surface area porous carbons for Electrochemical Capacitors (supercapacitors). He has established the method for estimating the ageing of a battery powering an electrical system by comparing the impedance with a previously stored model of evolution of this impedance with ageing and the method for removing ions form an electrolytic media, such as water desalination, using suspension of divided materials in a flow capacitor. He also discovered novel applications for alliform carbon, useful in conductors and energy storage devices, including electrical double layer capacitor devices and articles incorporating such conductors and devices.
Prof. Simon is a Fellow of International Society of Electrochemistry and has been acknowledged by numerous national and international awards such as Silver Medal of the French CNRS and Tajima Award of the International Society of Electrochemistry. He has published over 130 papers on international journals and several in high-impact journals such as Science and Nature Materials. Especially, his review paper published on Nature Materials in 2008 is the landmark in the field of supercapacitors gaining over 5000 times of citations.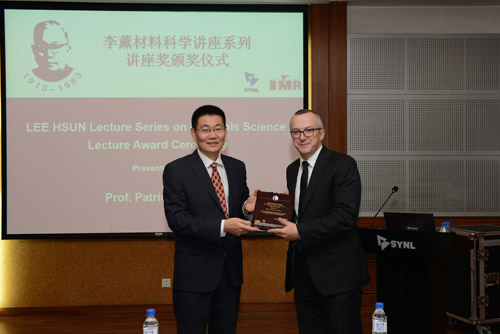 Prof. ZHANG Jian, the Deputy Director of IMR presents the plaque of Lee Hsun Lecture Series to Prof. Patrice Simon. (Image by IMR)
Prof. Patrice Simon delivers a lecture. (Image by IMR)