The recipient of 2016 Lee Hsun Lecture Series—Lee Hsun Lecture Award, Prof. Upadrasta Ramamurty from Indian Institute of Science, visited Institute of Metal Research, Chinese Academy of Sciences (IMR, CAS) from May 25 to 27, 2017.
During the visit, Prof. Upadrasta Ramamurty delivered a lecture entitled "Fracture in amorphous alloys". He presented the recent advances in understanding the fracture behavior of metallic glasses and morphologies observed on brittle fracture surfaces.
Prof. Upadrasta Ramamurty is a Fellow of the Indian National Academy of Engineering, the Indian Academy of Sciences, the Indian National Academy of Sciences, and the World Academy of Sciences (TWAS). He is a recipient of the Scopus Young Scientist and National Metallurgist Day awards, Shanti Swarup Bhatnagar and TWAS prizes (Engineering Sciences category), and Swarnajayanti and JC Bose National Fellowships.
His teaching and research interests are in the broad area of mechanical behavior of materials. His current research interests include deformation and fracture behavior of amorphous as well as crystalline alloys, additive manufacturing, and development and application of nanoindentation techniques. He has co-authored 200+ papers in peer reviewed international journals, and is an editor of Acta Materialia and Scripta Materialia.

Prof. ZHANG Jian, the Deputy Director of IMR presents the plaque of Lee Hsun Lecture Series to Prof. Upadrasta Ramamurty. (Image by IMR)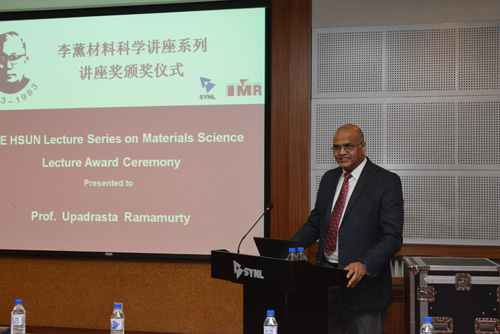 Prof. Upadrasta Ramamurty delivers a lecture. (Image by IMR)