The recipient of 2017 Lee Hsun Lecture Series—Lee Hsun Young Scientist Award, Dr. Manabu FUKUSHIMA from National Institute of Advanced Industrial Science and Technology, Japan (AIST), visited Institute of Metal Research, Chinese Academy of Sciences (IMR, CAS) from June 21 to 23, 2017.
During the visit, Dr. Manabu FUKUSHIMA delivered a lecture entitled "Engineered pore-configuration in cellular ceramics". He reviewed the recent progress on advanced processing strategies to control pore configurations at different length and volume scales, and discussed main technological features in his lecture.
Dr. FUKUSHIMA is collaborating with Prof. WANG Jingyang from High-performance Ceramics Division at Shenyang National Laboratory for Materials Science, IMR, CAS. They have made numerous breakthroughs on balancing properties of extremely low thermal conductivity, high strength and high temperature resistance.
Dr. FUKUSHIMA is currently a research scientist in Ceramic Structure Controlling Group at Advanced Manufacturing Research Institute. He is the vice president of American Ceramic Society's (ACerS) Engineering Ceramics Division.
His research interests pertain to the environmental purification filter and its microstructural control. He has been recognized with numerous awards, including Global Star Award from American Ceramic Society, 66th Award for Advancements in Ceramic Science and Technology from Japanese Ceramic Society.
Prof.YANG Rui, the Director of IMR presents the plaque of Lee Hsun Lecture Series to Dr. Manabu FUKUSHIMA.(Image by IMR)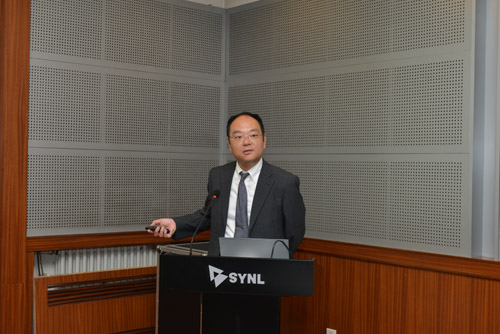 Dr. Manabu FUKUSHIMA delivers a lecture. (Image by IMR)