The recipient of 2015 Lee Hsun Lecture Series—Lee Hsun Lecture Award, Prof. Pulickel M. Ajayan from Rice University, visited Institute of Metal Research, Chinese Academy of Sciences (IMR, CAS) on July 4, 2017.
During the visit, Prof. Ajayan delivered a lecture entitled "Science and Engineering of Low Dimensional Materials". He discussed some of the challenges and opportunities related to engineering and integration of nanomaterials into applications and commercial products, with particular reference to carbon based nanostructures, two-dimensional atomic layers, nanocomposites and energy storage.
Prof. Ajayan is the Benjamin M. and Mary Greenwood Anderson Professor in Engineering at Rice University. He is the founding chair of Rice University's Materials Science and NanoEngineering department and also holds joint appointments with the Department of Chemistry and Department of Chemical and Biomolecular Engineering.
Prof. Ajayan is one of the pioneers in the field of carbon nanotubes and was involved in the early work on the topic along with the NEC group. His research focuses on the development of functional nanostructured materials for variety of applications. His research group looks at the materials science and engineering aspects of these novel materials with three different focused application areas, nanomaterials in energy generation and storage, multifunctional composites, nano-enabled bio-mimetic systems and nanoelectronics, nanosensors and active nanosystems.
Prof. Ajayan has received several awards including the Spiers Memorial Award by the Royal Society of Chemistry (UK), Senior Humboldt Prize, MRS medal, Scientific American 50 recognition, RPI senior research award, the Burton award from the microscopic society of America and the Hadfield medal for the outstanding student metallurgist in India. He has been elected as a fellow of the Royal Society of Chemistry (UK), AAAS, foreign fellow of the Mexican Academy of Sciences and National Academy of Sciences (India), and has been elected honorary member of Materials Research Society of India and the Indian Institute of Metals.
Prof. YANG Rui, the Director of IMR presents the plaque of Lee Hsun Lecture Series to Prof. Ajayan.(Image by IMR)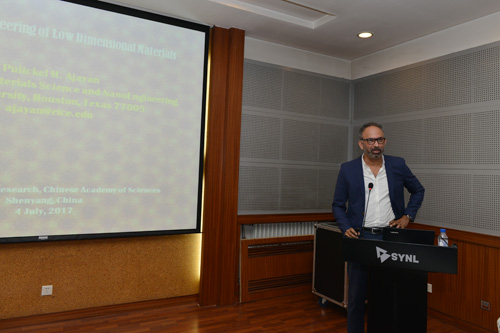 Prof. Ajayan delivers a lecture. (Image by IMR)