The recipient of 2017 Lee Hsun Lecture Series—Lee Hsun Young Scientist Award, Dr. Minkee Choi from Korea Advanced Institute of Science and Technology (KAIST), visited Institute of Metal Research, Chinese Academy of Sciences (IMR, CAS) from July 3 to 7, 2017.
During the visit, Dr. Choi delivered a lecture entitled "Catalytic applications of micro-/mesoporous hierarchical zeolites and metal-encapsulated zeolites". He overviewed the synthesis, properties, and catalytic applications of hierarchically porous zeolites. He also introduced the synthesis methodology for metal-encapsulated zeolites and their catalytic applications in his lecture.
Dr. Choi is currently a research scientist in the Department of Chemical and Biomolecular Engineering at KAIST. He is dedicated to the research of renewable energy sources and environmentally benign chemical processes that are essential for sustainable development of human society. His research also covers the development of advanced catalyst and storage materials that can contribute to the aforementioned issues, especially by using cutting edge knowledge on nanotechnology.
Dr. Choi has received numerous awards including Best Research Award of Year 2013 from Korean Environmental Industry and Technology Institute, The Distinguished Lectureship Award in the CSJ Asian International Symposium from the Chemical Society of Japan, Best research Award of Year' in climate change response, from Ministry of Science, ICT, and Future Planning, and KAIST Technology Innovation Award from KAIST. He is also appointed as the Early Career Advisory Board (ECAB) of ACS Catalysis.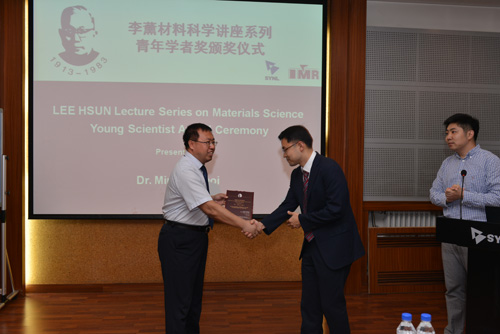 Prof. ZHANG Zhefeng, the Deputy Director of IMR presents the plaque of Lee Hsun Lecture Series to Dr. Minkee Choi. (Image by IMR)
Dr. Minkee Choi delivers a lecture. (Image by IMR)