The 24 Month Meeting of the Efficient Manufacturing for Aerospace Components Using Additive Manufacturing, Net Shape HIP and Investment Casting (EMUSIC) project was held from March 26 to 26, 2018 in Institute of Metal Research, Chinese Academy of Sciences (IMR, CAS).
22 representatives of Chinese participants in EMUSIC including AVIC Beijing Institute of Aeronautical Materials, Beijing Aeronautical Manufacturing Technology Research Institute, Huazhong Univ of Sci & Tech, Tsinghua University, AVIC Commercial Aircraft Engine Ltd and IMR attended the meeting. 10 representatives of EU Participants from UK, Germany, France, Spain and Switzerland etc. also attended the meeting.
In the meeting, the representatives from Chinese and EU participants reported the research progress and future research plans. A seminar of computational simulation method was also held in the 2nd session of the meeting.
They also had a lab tour in Titanium Alloys Division, IMR during their stay in IMR.
EMUSIC was launched on March 31, 2016 to assess the potential of several net shape processes for manufacturing components for aerospace. The objective is to develop the manufacturing processes identified in the call for components specified by aerospace companies both in China and in the EU. The project is scheduled to run until 31 March 2019. The EMUSIC has a total of 18 participants, 11 from the EU and 7 from China.
During the research program, experiments are carried out aimed at optimizing the process routes, using process modeling to guide developments. Components manufactured during development of these processes will be assessed and their dimensional accuracies and properties compared with specifications and any need for further process development identified.
At the meeting (Image by IMR)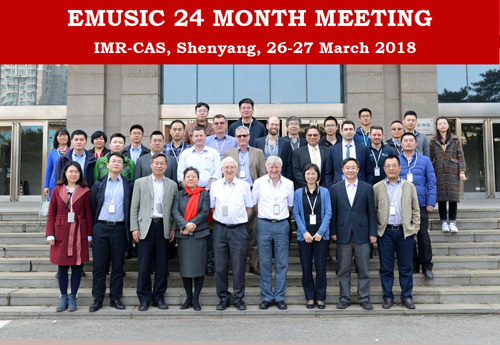 Group photo (Image by IMR)