The recipient of 2017 Lee Hsun Lecture Series—Lee Hsun Lecture Award, Prof. Nam-Gyu Park from Sungkyunkwan University visited Institute of Metal Research, Chinese Academy of Sciences (IMR, CAS) from April 27 to 28, 2018.
During the visit, Prof. Park delivered a lecture entitled "Organic-inorganic Lead Halide Perovskite: Photovoltaics and Beyond". In his lecture, he gave a detailed introduction of the recent development of low-dose X-ray imaging system employing MAPbI3.
Prof. Park is from School of Chemical Engineering and adjunct Professor at Department of Energy Sciences, Sungkyunkwan University, where he leads the Group of Next Generation Photovoltaics. He worked as Director of Solar Cell Research Center at Korea Institute of Science and Technology from 2005 to 2009 and as a Principal Scientist at Electronics and Telecommunications Research Institute from 2000 to 2005 before joining Sungkyunkwan University in 2009.
His research activity has been focused on high efficiency dye-sensitized solar cells. He is specialist in design and synthesis of inorganic nanostructured materials as well as photovoltaic solar cell fabrication. He received awards, including Scientist Award of the Month (MEST, Korea), KyungHyang Electricity and Energy Award (KEPCO, Korea), KIST Award of the Year (KIST, Korea), and Dupont Science and Technology Award (Dupont Korea).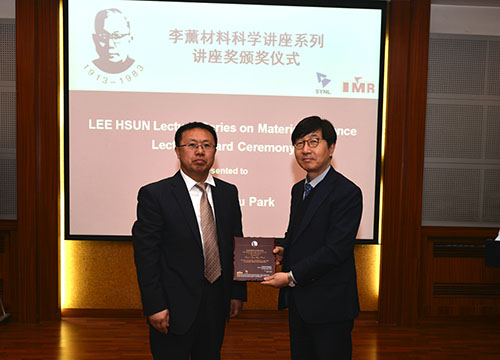 Prof. ZHANG Zhefeng, the Deputy Director of IMR presents the plaque of Lee Hsun Lecture Series to Prof. Park. (Image by IMR)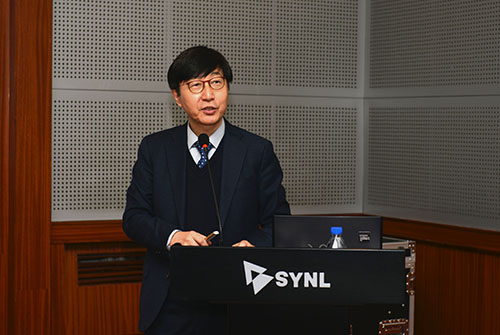 Prof. Park delivers a lecture. (Image by IMR)