The recipient of 2019 Lee Hsun Lecture Series—Lee Hsun Lecture Award, Prof. Harshad Bhadeshia from University of Cambridge visited Institute of Metal Research, Chinese Academy of Sciences (IMR, CAS) from April 24 to 28, 2019.
During the visit, Prof. Bhadeshia delivered a lecture entitled "Atomic mechanism of the bainite transformation". In his lecture, he gave an overview of some basic science so that a well-founded understanding of mechanisms can lead to ever greater advances. He also placed bainite in the scheme of the other solid-state phase transformations that occur in steels, and to relate this to the calculation of structure. Bhadeshia is currently a Tata Steel Professor of Metallurgy at the University of Cambridge and Fellow of the Royal Society.
He has carried out important work on the theory of solid state phase transformations, in particular the prediction and verification of microstructural development in multicomponent steels. He has made a major contribution to the understanding of the complex bainitic transformation by developing and using thermodynamic theory to show that different modes of transformation have measurable influences on the final microstructure.
Prof. Bhadeshia is editor of Materials Science and Engineering: A、Materials Science and Technology and Science and Technology of Welding and Joining.
Prof. Bhadeshia has won many important awards for his contributions including Royal Society Armourers & Brasiers' Company Prize. He has been awarded by Queen Elizabeth II for services to science and technology in 2015.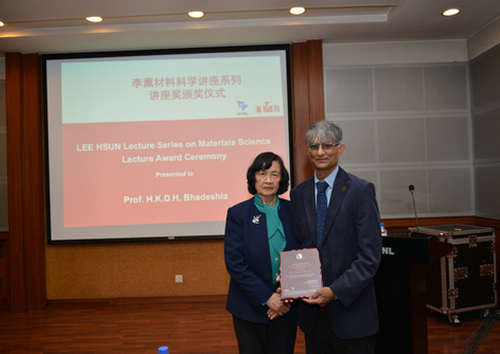 Academician LI Yiyi presents the plaque of Lee Hsun Lecture Series to Prof. Harshad Bhadeshia. (Image by IMR)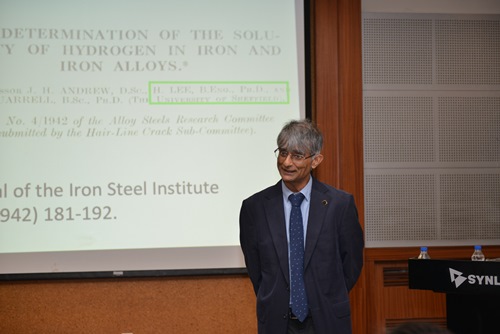 Prof. Harshad Bhadeshia delivers a lecture. (Image by IMR)