The recipient of 2018 Lee Hsun Lecture Series—Lee Hsun Young Scientist Award, Dr. Thomas Lunkenbein from Fritz-Haber-Institut der Max-Planck-Gesellschaft, visited Institute of Metal Research, Chinese Academy of Sciences (IMR, CAS) from April 22 to 26, 2019.
During the visit, Dr. Thomas Lunkenbein delivered a lecture entitled "Heterogeneous Catalysts – The Presence of Local Structures and their Temporal Evolution". In his lecture, he gave an overall introduction about the local complexity in structure and composition of different heterogeneous catalysts and how heterogeneous a macroscopic homogeneous sample can be. In addition, he also showed that the temporal evolution of such local structures during the catalytic reaction was tracked by ex situ, quasi in situ, and operando electron microscopy techniques implying the occurrence of structural and morphological changes on the atomic and mesoscale., and their first steps in extending this approach for sustainable biomass photoreforming and chemical synthesis.
Dr. Thomas Lunkenbein's current focus lies on the analysis of the structure– property relationship and the dynamic processes of heterogeneous catalysts. He has host several major cooperation projects with BASF and Süd-Chemie.
He was named 30 most promising young chemists under 30 elected by American Scientific in 2013. He also received numerous international awards including PhD Award of the Emil-Warburg-Foundation, Cultural Award of Bavaria, FHI Award for the Development of Chemical Electron Microscopy and FHI Award for Imaging of Distortions in MetalOxygen Polyhedra.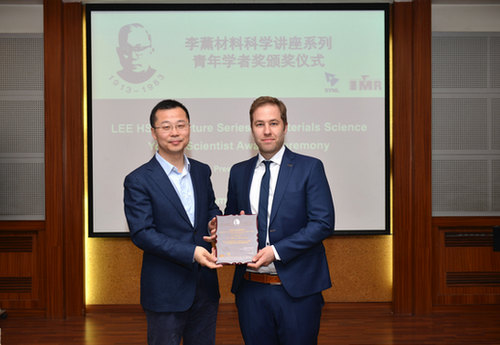 Prof. LIU Gang, the Deputy Director of IMR presents the plaque of Lee Hsun Lecture Series to Dr. Thomas Lunkenbein. (Image by IMR)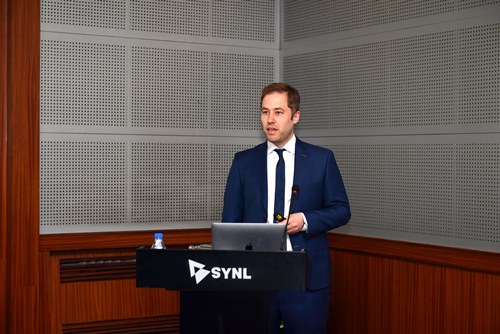 Dr. Thomas Lunkenbein delivers a lecture. (Image by IMR)