The recipient of 2019 Lee Hsun Lecture Series—Lee Hsun Lecture Award, Prof. Helmut Clemens from Montanuniversitaet Leoben visited Institute of Metal Research, Chinese Academy of Sciences (IMR, CAS) from April 24 to 28, 2019, accompanied by Associate Prof. Svea Mayer from Montanuniversitaet Leoben.
During the visit, Prof. Clemens delivered a lecture entitled "Advanced Engineering Intermetallic Titanium Aluminides". In his lecture, he gave an overview of the mechanical properties of advanced engineering intermetallic TiAl alloys. He also introduced future alloy design strategies, for example, how creep strength can be improved by tailoring microstructure and chemical composition.
Prof. Clemens also conducted thorough discussions with researchers from Materials for Special Environments Division and Titanium Alloys Division in the field of new-type TiAl alloys design and phase transformation behavior of alloys. He also confirmed the next-stage implementation plan with Prof. LIU Kui's research team based on the new type transformation TiAl alloys research project.
Prof. Clemens is the Head of the Department of Physical Metallurgy and Materials Testing at Montanuniversit?t Leoben, Austria. He is one of the internationally most renowned experts in the field of titanium aluminides. His activities and research on intermetallic TiAl based alloys for more than two decades have significantly contributed to the fact that they are presently seen as key structural materials for high-temperature application in advanced jet and automotive engines of the next generation.
Prof. Clemens has won numerous awards for his scientific contributions, including the Rektor-Platzer-Ring of Montanuniversitaet Leoben in 1983, the Georg-Sachs Prize of the German Society of Materials Science in 1995, the Erich Schmid Award of the Industry of the Austrian Industrial Society in 2006, and the Wolfgang-Houska Prize of the B&C Foundation, Austria, in 2010. He also won the Honda Prize, also known as the Nobel Prize of Technology in 2014.
During the visit, Associate Prof. Svea Mayer also delivered a lecture entitled "Research with Neutrons and Synchrotron Radiation on Advanced Titanium Aluminides".
Academician LI Yiyi presents the plaque of Lee Hsun Lecture Series to Prof. Helmut Clemens. (Image by IMR)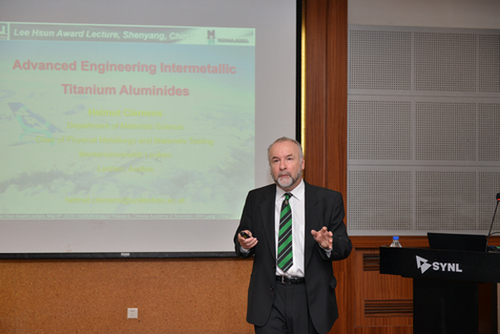 Prof. Helmut Clemens delivers a lecture. (Image by IMR)