The recipient of 2019 Lee Hsun Lecture Series—Lee Hsun Lecture Award, Prof. Sudipta Seal from University of Central Florida (UCF) visited Institute of Metal Research, Chinese Academy of Sciences (IMR, CAS) from June 4 to 7, 2019.
During the visit, Prof. Seal delivered a lecture entitled "Nanoceria with engineered defects: Antioxidative Mimetic Enzymes". In his lecture, he discussed the role of CNP to accelerate the wound healing process through reducing the oxidative/nitrosative damage and inducing proliferative effect on the migration of keratinocytes, fibroblast and vascular endothelial cells. He also introduced the CNP his team successfully conjugated, which promotes the wound healing in diabetic mice by reducing the oxidative stress environment and promoting macrophage transition.
Sudipta Seal is a Professor in AMPAC and the Department of Mechanical, Materials, and Aerospace Engineering, at the University of Central Florida. He is also serving as a Nanoinitiative Coordinator for UCF. He is on the editorial board of Nanoscience and Nanotechnology, Reviews in Advanced Materials, Chair of the surface engineering sector for The Journal of The Minerals, Metals & Materials Society (JOM), on the review board of Metallurgical and Materials Transactions. Prof. Seal is dedicated to develop nanostructures for applications in the treatment of diseases such as Alzheimer's, Parkinson's, retinal degeneration, aging, UV protection, anti-inflammatory therapies, and developing novel nanoparticle strategies for radiative and non-radiative therapies for cancer.
Prof. Seal is the recipient of the 2002 ONR Young Investigator Award and Distinguished ASM-IIM lecturer Award from ASM (2003), as well as a Japan Society of Promotion Science Fellow (2004), and an Alexander Von Humboldt Fellow (2005-2006). He is also an active member of ASM, TMS, MRS, ECS, and AVS.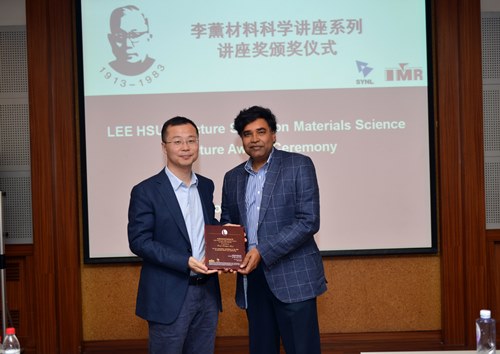 Prof. LIU Gang, the Deputy Director of IMR presents the plaque of Lee Hsun Lecture Series to Prof. Sudipta Seal. (Image by IMR)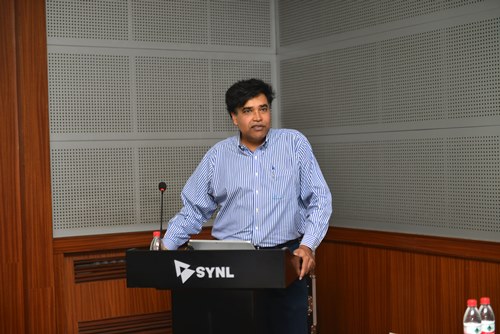 Prof. Sudipta Seal delivers a lecture. (Image by IMR)