Brief Introduction
Our research mainly focuses on developing new structural and functional materials that can be used in special environments (such as hydrogen, low temperature, high temperature, and high pressure), manufacturing highly reactive materials by vacuum induction melting techniques, and investigating the solidification behavior of alloys under microgravity.
Research Areas
• Special Alloys
Development of hydrogen-resistant alloys with high strength, novel damping alloys, shape-memory alloys, special aluminum alloys, and coupling techniques for different materials.
• Materials for Special Engineering
Study of CaO refractory product processing and the development of high-purity Ti-Ni shape-memory alloys, superalloys, stainless steel, and Ti-Al-based alloys using special melting and casting technology. The invention of the VIM+ESR melting process for Alloy 690 can produce < 10 ppm wt oxygen and sulfur content large ingots. The high-performance U-shape steam generator (SG) tubing for pressurized water reactors (PWRs) was manufactured with a series of innovative techniques.
• Film Materials for Hydrogen Storage
Development of ultralow-desorption plateau pressure hydrogen storage materials and hydrogen isotope separation materials and technology.
• Microgravity Material Science
Study of the effects of gravity and those covered by gravity on the solidification processes and microstructures of materials and their mechanisms using microgravity environments in space or simulated by terrestrial facilities.
Research Highlights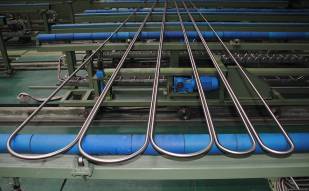 The U tube of Inconel690 alloy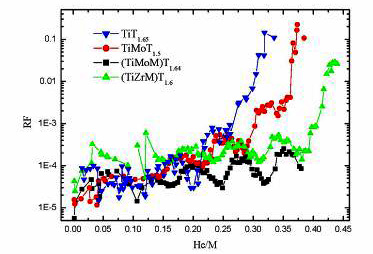 Helium-release performance of Ti- and Ti-based alloys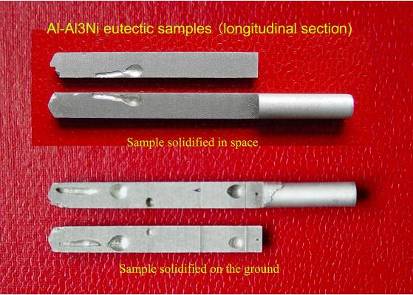 The Al-Al3Ni eutectic alloy sample solidified in space onboard the SZ-III spaceship and its counterpart solidified on the ground.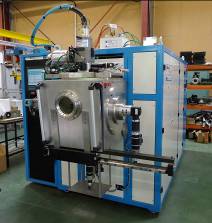 MEDARD46-type vacuum electron-beam welder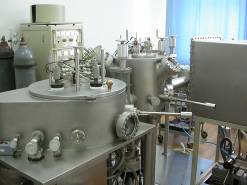 Magnetron sputtering and ion beam sputtering film coating machine