Brief Introduction
This division is mainly engaged in designing, developing, and manufacturing special precise tubes, wires, and poles of many alloys, such as stainless steel, superalloys, aluminum, and titanium alloys. With continuous construction and development, the division now has 18 technological personnel and more than 40 skilled workers. With four workshops that cover approximately 5000 m2, we possess more than 100 main pieces of equipment. The division for the precise tubing of metals can annually reach 200 tons of all kinds of precise tubes, wires, and poles.
These products are widely applied in the aviation, space flight, navigation, and atomic energy industries. The Inconel 718 tubes have been used to build the O-type seal rings of the C1 and C2 Nuclear Power Stations, and the GH145 springs have been used in the Control Roles Driving Machines of the Hongyanhe, Ningde, Fuqing, Yangjiang, and Fangjiashan Nuclear Power Stations. The 12Cr13 tubes have successfully passed the hot-state test of the CNP1000 and CPR1000 CRDM engineering sample machines and were used to build the AP1000 CRDM engineering sample machine.
Equipped with advanced facilities and high technology, such as vacuum induction melting furnaces, a complete set of precise tube-forming machines, non-destructive testing machines for precision tubes, extrusive casting machines for aluminum alloys, and vacuum heat treatment processors, this division has now become a center for providing advanced technologies for tube formation and precision tube products. It also offers services in designing and analyzing material constituents and performance, smelting special alloys, and preparing tubing billets and precision tube formation. The division is also developing a tube fatigue test machine and function test equipment.
Research Areas
♦ Preparation and Processing Techniques for Precision Tube Formation
♦ Wire and Pole Materials for Tube Formation
♦ Research and Development of Tubes for Atomic Energy
♦ Superalloy and Special Alloy Tube Processing Techniques
♦ Non-ferrous Metal Tube Formation
Research Production

Aluminum alloy tubes for aviation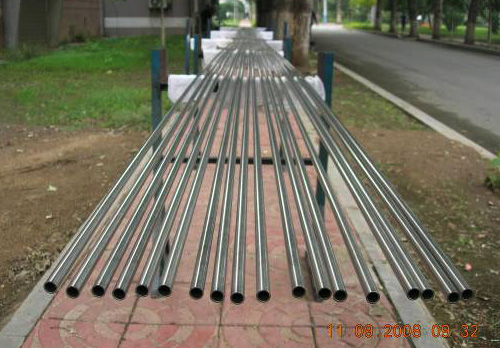 Inconel 718 tubes for nuclear power station
12Cr13 tubes for CRDM of nuclear power station