Brief Introduction
Functional Materials and Devices Division focuses on studying fundamental aspects of magnetism, magnetic materials, and functional materials. For example, we study the structural and magnetic properties of rare-earth transition-metal compounds, synthesize nanocomposite magnetic materials and functional materials, and adjust physical functions of materials by studying magnetic phase transitions. The key future research projects will focus on exchange coupling in nanocomposite magnetic materials, electromagnetic wave absorption properties of magnetic nanocapsules, growth mechanisms and physical properties of functional films, phase transitions and critical phenomena in materials, and effects of dimensions and spin-orbital coupling on Bose-Einstein condensates and superfluid.
Research Areas
- Rare-earth Magnetic and Functional Materials
Study of rare-earth permanent magnets, giant magnetostrictive, materials, giant-magneto-resistance materials, and magneto-caloric materials.
- Magnetic Nanocapsules
Synthesis of magnetic nanocapsules by physical and chemical methods and study of the magnetic, electromagnetic wave absorption, and biological properties of magnetic nanostructures.
- Functional Film Materials
Growth of extra-thin films, multilayers, superlattices, and junctions and study of magneto-transport, ferroelectric, and multiferroic properties and their composite and coupling effects.
- Theoretical Research
Theoretical study of magnetism, Bose-Einstein condensates, superconductors, superfluids, and the effects of dimensions, spin-orbital coupling, and phase transitions.
Research Highlights
Temperature dependence of the specific heat C for three-dimensional simple orthorhombic Ising lattices with K' = K'' = K, 0.5 K, 0.1 K, and 0.0001 K (from right to left).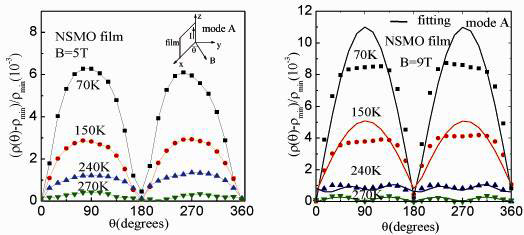 Cross-sectional HRTEM image and angular-dependent magnetoresistance of 6 nm Nd0.45Sr0.55MnO3 film grown on STO
Please click here to visit the website